Vol 50, No 3 (2022)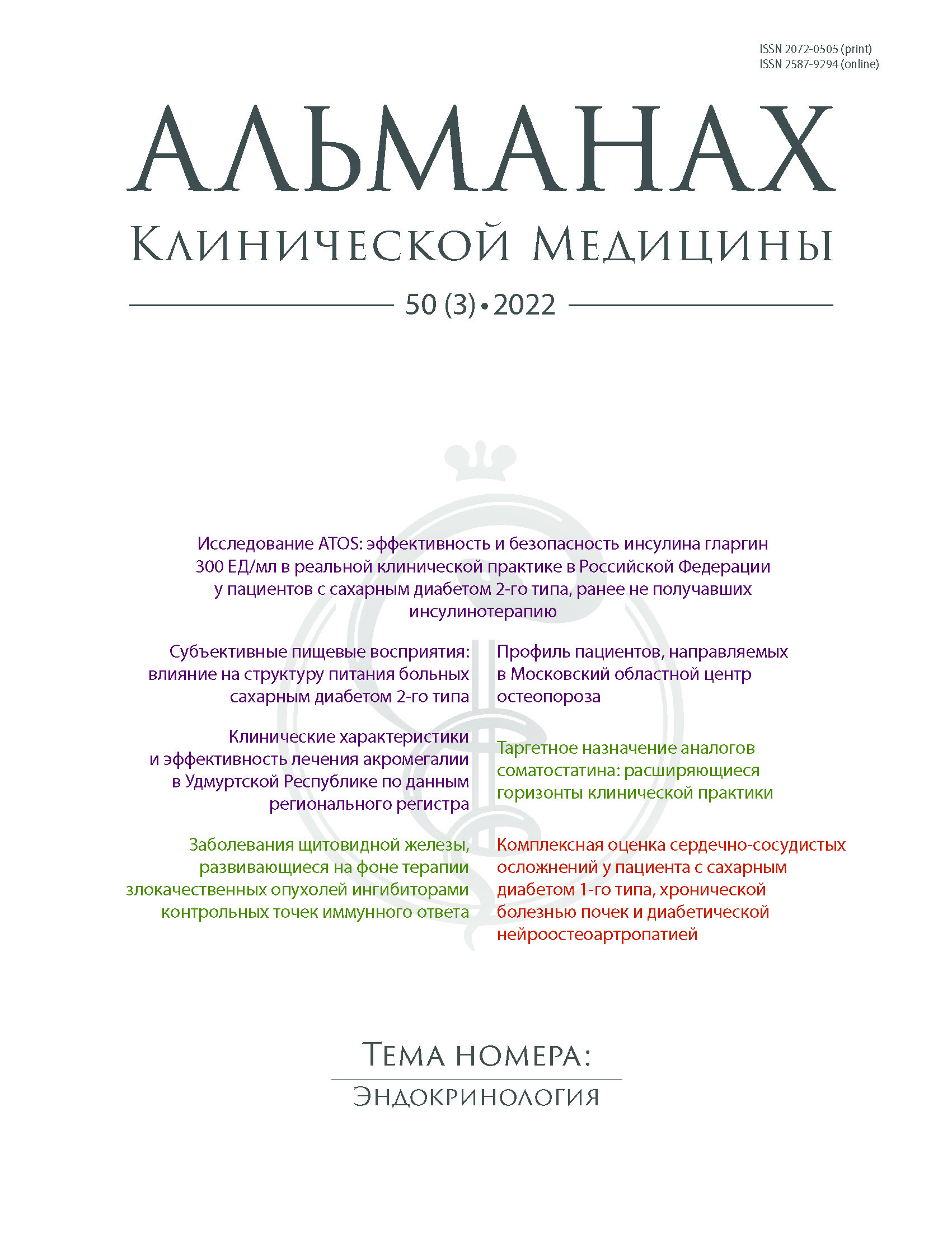 ARTICLES
Abstract
Rationale: Basal insulin glargine 300 U/mL (Gla-300) is a second-generation basal insulin analogue that has comparable efficacy and lower variability compared to the first generation long-acting insulin analogue glargine 100 U/mL.
Aim: To assess the effectiveness and safety of Gla-300 in insulin-naïve type 2 diabetic patients in the real world practice in Russia.
Materials and methods: ATOS (NCT03703869) was a 12-month, prospective observational international multicenter study. The study included 4422 adults (≥ 18 years) with uncontrolled type 2 diabetes (HbA1c > 7 and ≤ 11%) with ≥ 1 oral anti-hyperglycemic drug and for whom the treating physician had decided to add Gla-300. We performed a post-hoc sub-analysis of the study participants recruited in Russia.
Results: The Russian study group included 1493 patients receiving Gla-300. At 6 months, 25.9% of the patients achieved their predefined individualized HbA1c target and 53.3% achieved their HbA1c target at month 12. Their mean (± SD) HbA1c level decreased from 9.3 ± 0.9% at baseline to 7.6 ± 0.7% and 7.2 ± 0.7 at months 6 and 12. The incidence of hypoglycemia was generally low; overall, severe hypoglycemia was reported only in 0.07% and 0.13% of the patients at 6 and 12 months. The baseline average daily dose of Gla-300 was 13.2 ± 4.9 Units; it to 23.6 ± 9.1 and 26.0 ± 9.8 Units at months 6 and 12.
Conclusion: In the real world setting, initiation of insulin Gla-300 in type 2 diabetic patients who had been out of their target glucose range with oral hypoglycemic agents is associated with improved glycemic control and low risk of hypoglycemia.
Almanac of Clinical Medicine. 2022;50(3):149-157

149-157


Abstract
Background: The expected ageing of the population and the increase in the number of patients with osteoporosis require a correct approach to identification of individuals with a high fracture risk, to their rational routing for the work-up and timely prescription of therapy. A preliminary analysis of characteristics of patients referred to specialized osteoporosis centers may help to optimize medical care for these patients.
Aim: To analyze the profile of patients referred for densitometry and/or to an osteoporosis specialist at the Moscow Regional Osteoporosis Centre in order to optimize care for this patient population in the region.
Materials and methods: The study was performed in the Moscow Regional Osteoporosis Centre located in Moscow Regional Research and Clinical Institute (MONIKI). We retrospectively analyzed medical files of all consecutive outpatients attending the center at their own or with a referral for densitometry and/or specialist consultation January 1 to December 31, 2019.
Results: The study included 1940 patients aged 42 to 90 years, with 96.5% (n = 1873) being female, with the mean age of 65.4 ± 8.5 years; males accounted for 3.5% (n = 67), their mean age was 65.6 ± 9.0 years. Patients who had not previously been diagnosed with osteoporosis accounted for 63.8% (n = 1238), whereas 36.2% (n = 702) of the patients have been diagnosed earlier. 27.8% (n = 540) of all patients, were remarkable for the history of low-energy fractures. 88.1% of the patients were referred by endocrinologists or rheumatologists. The main purpose of the referral was to perform densitometry and get the prescription of treatment for osteoporosis (61%).
The median FRAX-based risk of major fractures in the total group was 8.2 [6.9; 13.0] % (n = 1277), with the risk in women being significantly higher than in men (8.3 [7; 13] % vs. 4.6 [4.2; 7.7] %, respectively, p < 0.001). When bone mineral density was assessed with the T-score (n = 1928), the result of ≥ +0.1 SD was found in 6.6% (n = 127), whereas 11.6% (n = 224), 44.4% (n = 856), 37.4% (n = 721) were judged as "normal values", "osteopenia", and "osteoporosis", respectively.
According to the specialist consultation in the Centre, a clinical diagnosis of osteoporosis was made in 53.2% of the cases (n = 1032), while 0.3% (n = 5) had another bone disease, 19.2% (n = 373) had no bone disease, and 27.3% (n = 530) had some other problems. The proportion the patients with indications for treatment for osteoporosis was 56% (n = 1089); 45% (n = 489) of them were recommended to initiate therapy, 36.7% (n = 400) continued with their previous medication and 18.3% (n = 200) needed a modification of their management.
Conclusion: The study results have shown that patients are frequently referred for densitometry without enough grounds and with a low risk of fracture. This makes highly relevant the use of the FRAX algorithm as a screening tool for diagnosis and timely administration of treatment for osteoporosis not only by specialists, but also by primary care physicians.
Almanac of Clinical Medicine. 2022;50(3):158-169

158-169


Abstract
Background: Acromegaly is a severe neuroendocrine disorder caused by chronic overproduction of growth hormone and insulin-like growth factor 1 and associated with a variety of clinical manifestations, debilitating complications and progressive disability, if no biochemical control has been achieved. The Russian registry of hypothalamic-pituitary tumors allows for evaluation of the epidemiological, demographic and clinical characteristics of patients with acromegaly, as well as of the effectiveness of various treatment methods.
Aim: To identify epidemiological and clinical characteristics and treatment efficacy for acromegaly in the patients in the Udmurt Republic.
Materials and methods: We performed a cross-sectional study based on the registry of hypothalamic-pituitary tumors of the Udmurt Republic as per June 2022. It contains data from 77 patients with acromegaly. The study included 59 (76.62%) patients with the information sufficient for evaluation of the disease stage and its complications.
Results: According to the registry of hypothalamic-pituitary tumors, the prevalence of acromegaly in the Udmurt Republic was 6.71 cases per 100,000 of the population. Patients with acromegaly in Udmurt Republic had a high prevalence of arthralgia, abnormally large feet and hands, weakness/fatigue, snoring / sleep apnea, increased sweating, dizziness, peripheral edema, obesity, menstrual cycle abnormalities, diabetes mellitus, nodular goiter, pathological fractures and hypopituitarism. Neurosurgery has been performed in 74.57% (n = 44) of the patients, with a remission of acromegaly achieved in 18 (40.9%). Medical treatment was given to 25/59 (42.37%) of the patients, with 22 of them being treated with 1st generation long-acting somatostatin analogues. Radiation therapy has been administered to 13 patients (22.03%). Biochemical control was achieved in 40/59 (67.8%) of patients with acromegaly, related to neurosurgery in most patients, as well as to the use of a growth hormone receptor antagonist and/or combined medical treatment.
Conclusion: The prevalence of acromegaly in the Udmurt Republic is consistent with international data. Clinical characteristics of acromegaly generally correspond to the classic disease course, although a number of symptoms are more commonly found in the Udmurt Republic patients than in the Russian Federation registry; this might be related to the quality of the registry management. The effectiveness of treatment for acromegaly in Udmurt Republic is comparable to the international data.
Almanac of Clinical Medicine. 2022;50(3):170-176

170-176


Abstract
Background: Subjective food perceptions in various aspects that could impact food choices and diet adherence by the Russian patients with type 2 diabetes mellitus (T2DM) have not been studied.
Aim: To assess food perceptions in T2DM patients in the reference group of dairy products and their potential influence on the nutritional structure.
Materials and methods: This cross-sectional study included 300 consecutive out- and in-patients with T2DM (mean age ± standard deviation, 60,8 ± 10,2 years, duration of diabetes 1 to 35 years). The patients underwent standard clinical and laboratory work-up and filled in the questionnaire on food perceptions of six dairy products (low fat cottage cheese, low fat milk, high fat milk, sour cream, cheese, and sweet cheese curds) in the following five aspects: impact on general health, impact on prevention of cardiovascular diseases, impact on glycemic control, taste and convenience of the use. These perception aspects were compared with the self-reported frequencies of the use of each product, patients' demographic and clinical characteristics.
Results: The patients considered low fat cottage cheese to be most healthy for their general health, with low fat milk and cheese ranking 2nd (р < 0.0001 compared to low fat cottage cheese). Fat milk and sour cream were perceived as unhealthy (р < 0.0001 compared to "healthy products"). Sweet cheese curds were perceived by the patients as the most unhealthy/"harmful" (р < 0.0001 compared with each of the rest products). All other medical aspects of food perceptions (impact on cardiovascular prevention and diabetes control) moderately or strongly correlated between each other and with the perception for general health (Spearman's r from 0.42 to 0.72, all р < 0.0001). Taste perceptions of all products, except sour cream, demonstrated moderate correlation with their perception in terms of convenience of the use (Spearman's r from 0.36 to 0.47, all р < 0.0001). Male patients perceived low fat milk as more tasty and sour cream as more healthy, than female patients (р = 0.029 and 0.046, respectively). Female patients found sour cream more tasty (р = 0.019), and low fat cottage cheese and cheese as more healthy, than males (р = 0.009 and 0.014, respectively). The frequencies of the product use was associated with medical aspects of their perceptions: patients use to eat/drink low fat milk, low fat cottage cheese and cheese significantly more often, than high fat milk and sweet cheese curds (р < 0.0001), whereas sour cream was in an intermediate position as per its frequency of the use. Low fat cottage cheese and cheese ranked first according to the proportion of their consumers (91.3 and 90.7% of the patients, respectively), low fat milk ranked second (82% of the patients), and sour cream third (75%), whereas most patients abstain from the use of fat milk and sweet cheese curds (32 and 32.3% using them, respectively). The frequency of the reference product use was to a significantly lesser extent associated with perceptions of their taste or convenience of the use and was not at all associated with their costs/prices.
Conclusion: T2DM patients are able to clearly differentiate the products of the reference group (dairy products) for such aspects, as their impact on their general health, cardiovascular system and glycemic control. In most cases, these attitudes were not associated with their taste perceptions. It is exactly medical aspects of subjective food perceptions that have a higher impact on the nutritional structure (real-life use) than their taste or convenience of the use. This fact may become a favorable background for patient education in the area of rational nutrition and diet; however, patients' knowledge on the food nutritional content and on their real impact on the health status need significant improvements.
Almanac of Clinical Medicine. 2022;50(3):177-186

177-186


REVIEW
Abstract
In the recent years, immune checkpoint inhibitors (ICPI) have been widely used for treatment of many malignant neoplasms. In the Russian Federation, several ICPIs have been approved and actively used, namely anti-CTLA-4 monoclonal antibody (ipilimumab), anti-PD-1 monoclonal antibodies (nivolumab, pembrolizumab, prolgolimab), and anti-PD-L1 monoclonal antibodies (atezolizumab, durvalumab). ICPIs may cause various endocrine immune-mediated adverse events, most commonly thyroid dysfunction and hypophysitis, which are at large associated with anti-tumor therapy with a certain subgroup of these agents. Predictors of endocrine immune-mediated adverse events remain unclear, and their optimal prevention, prediction and treatment have not been yet defined. The review contains the information accumulated in the literature on the mechanisms, biomarkers, specific characteristics of thyroid immune-mediated adverse events and describes the principles of treatment for these thyroid disorders. This information would be useful for practicing oncologists, endocrinologists, internists, family physicians, as well as for any other medical specialties.
Almanac of Clinical Medicine. 2022;50(3):187-195

187-195


Abstract
Targeted treatment with somatostatin analogues (SA) in acromegaly and neuroendocrine neoplasms may have some benefits compared to curative treatments, because these agents decrease excessive hormone secretion and exert a tumor-suppressive effect. Monotherapy and combination therapy with SA is well tolerated and bears no risk of debilitating iatrogenic complications. In acromegaly caused by somatotropin producing pituitary tumor, first generation SA are treatment of choice after non-radical adenomectomy, as well as in the cases when patients reject surgery. Treatment efficacy depends on the pathomorphological types of somatotropic tumors, which are different in their receptor phenotype, clinical scenario and proliferative activity. The first generation SA are successfully used for medical treatment of other pituitary tumors (thyrotropic, corticotropic, gonadotropic, lactotropic with resistance to dopamine agonists), as well as for adjuvant therapy of neuroendocrine and non-endocrine neoplasms and elimination of various gastrointestinal disorders. The anti-secretory and anti-tumor effects of SA have been proven for gastroenteropancreatic tumors (carcinoid syndrome, vipomas, gastrinomas, insulinomas, glucagonomas, somatostatinomas). Targeted selection of patients for treatment with first generation SA based on the receptor phenotypes of malignant cells would facilitate more rapid achievement of biochemical remission, improvement of quality of life and survival.
Almanac of Clinical Medicine. 2022;50(3):196-204

196-204


CLINICAL CASES
Abstract
The paper presents a clinical case of the patient with long-term poor control of type 1 diabetes mellitus, chronic kidney disease (CKD) and diabetic neurоosteoarthropathy. The characteristics of interest in the clinical case are CKD complications associated with mineral and bone metabolism disorders. Clinical consequences of vascular calcification due to secondary hyperparathyroidism, autonomic and peripheral neuropathy have resulted in cardiovascular complications. We discuss the diagnostic challenges of vascular calcification, as well as the interpretation of diagnostic methods in lower limb arterial disease, and provide evidence for the advantages of alternative treatment of secondary hyperparathyroidism with a selective activator of vitamin D receptors. The important role of CKD in the development of metabolic, structural and hemodynamic disorders in patients with type 1 diabetes mellitus is emphasized.
Almanac of Clinical Medicine. 2022;50(3):205-215

205-215