ANALYSIS OF EFFECTIVENESS OF DIFFERENT SURGICAL METHODS AND EARLY POSTOPERATIVE COMPLICATIONS IN PATIENTS WITH PSEUDOEXFOLIATION GLAUCOMA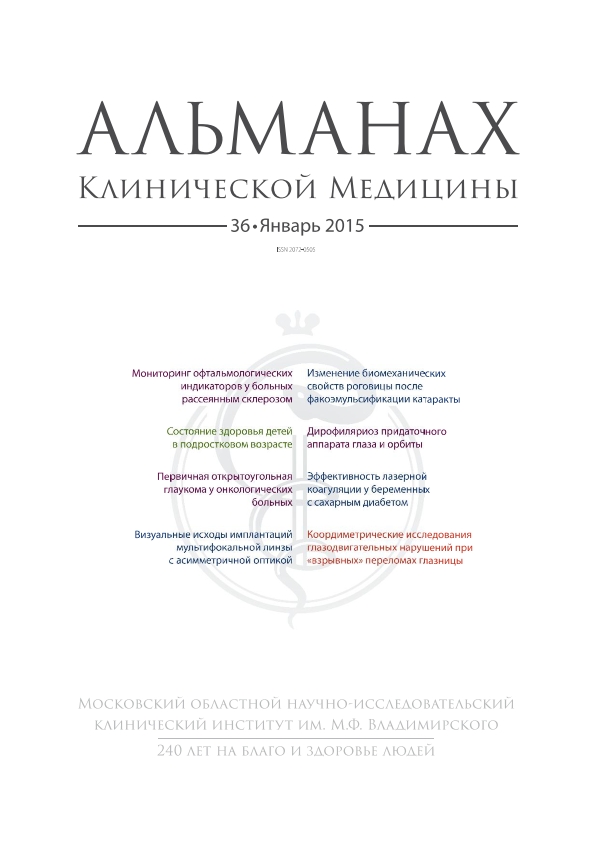 Cite item
Abstract
Aim: To study the effectiveness of several surgical methods in patients with pseudoexfoliation glaucoma (PEG); to assess frequency of early postoperative complications.
Materials and methods: We analyzed hospital medical records of 554 patients with verified diagnosis of PEG; the patients underwent surgical treatment in the State-Financed Health Institution of the Tyumen Region "Regional Clinical Hospital No. 1".
Results: The majority of patients were > 70 years old (mean age was 67.5 ± 21.5 years old). Types of surgical treatment were as follows: sinus trabeculectomy (STE) with posterior scleral trepanation in 73.1% of the cases (n = 405), non-penetrating deep sclerectomy (NPDS) – in 23.8% (n = 132); STE + posterior scleral trepanation and use of silicone drainage Repegel-1 (STE + drainage) – in 3.1% (n = 17). After primary STE, postoperative complications were found in 20% (n = 31) of the patients; after repeated STE – in 76.8% (n = 119); after STE + drainage – in 3.2% (n = 5). Early postoperative complications of STE were diagnosed in 28% (n = 155) of the patients including hyphema in 45% (n = 70) of cases, postoperative hypertension in 31% (n = 48), absence of filtering bleb in 20% (n = 31) and others in 4% (n = 6) of cases. After repeated STE, early postoperative hypertension
was found only in patients with hyphema (in 99.2% (n = 118) of cases, p < 0,05).
Сonclusion: Analysis of the results of several surgical methods of treatment for pseudoexfoliation glaucoma demonstrated inefficiency of NPDS; on the contrary, STE and STE + drainage are regarded as methods of choice. Concomitant cardiovascular diseases contribute to the progression of PEG and increase the risk of early postoperative complications.
About the authors
Tyumen State Medical Academy
Author for correspondence.
Email: marina.datskih@yandex.ru

аспирант кафедры офтальмологии факультета повышения квалификации
и профессиональной переподготовки специалистов
Russian Federation
Tyumen State Medical Academy
Email: fake@neicon.ru

канд. мед. наук, доцент кафедры офтальмологии факультета повышения квалификации и профессиональной переподготовки специалистов
Russian Federation
Tyumen Regional Clinical Hospital No. 1
Email: fake@neicon.ru

заведующий отделением офтальмологии
Russian Federation
References
Брежнев АЮ, Юрьева ТН. Псевдоэксфолиативная глаукома. В: Егоров ЕА, ред. Глаукома. Национальное руководство. М.: ГЭОТАР-Медиа; 2013. (Brezhnev AYu, Yur'eva TN. Pseudoexfoliation glaucoma. In: Egorov EA, editor. Glaukoma. National guidance. Moscow: GEOTAR-Media; 2013. Russian).
Damji KF. Progress in understanding pseudoexfoliation syndrome and pseudoexfoliationassociated glaucoma. Can J Ophthalmol.
;42(5):657–8.
Grieshaber MC, Flammer J. Blood flow in glaucoma. Curr Opin Ophthalmol. 2005;16(2):79–83.
Grodum K, Heijl A, Bengtsson B. Risk of glaucoma in ocular hypertension with and without pseudoexfoliation. Ophthalmology.
;112(3):386–90.
Mitchell P, Lee AJ, Rochtchina E, Wang JJ. Openangle glaucoma and systemic hypertension: the blue mountains eye study. J Glaucoma. 2004;13(4):319–26.
Ritch R, Schlotzer-Schrehardt U, Konstas AG. Why is glaucoma associated with exfoliation syndrome? Prog Retin Eye Res. 2003;22(3): 253–75.
Tarkkanen A, Reunanen A, Kivela T. Frequency of systemic vascular diseases in patients with primary open-angle glaucoma and exfoliation glaucoma. Acta Ophthalmol. 2008;86(6):598–602.