Intraoperative computed tomography perfusion navigation for maximal resection of high grade gliomas: a prospective non-randomized trial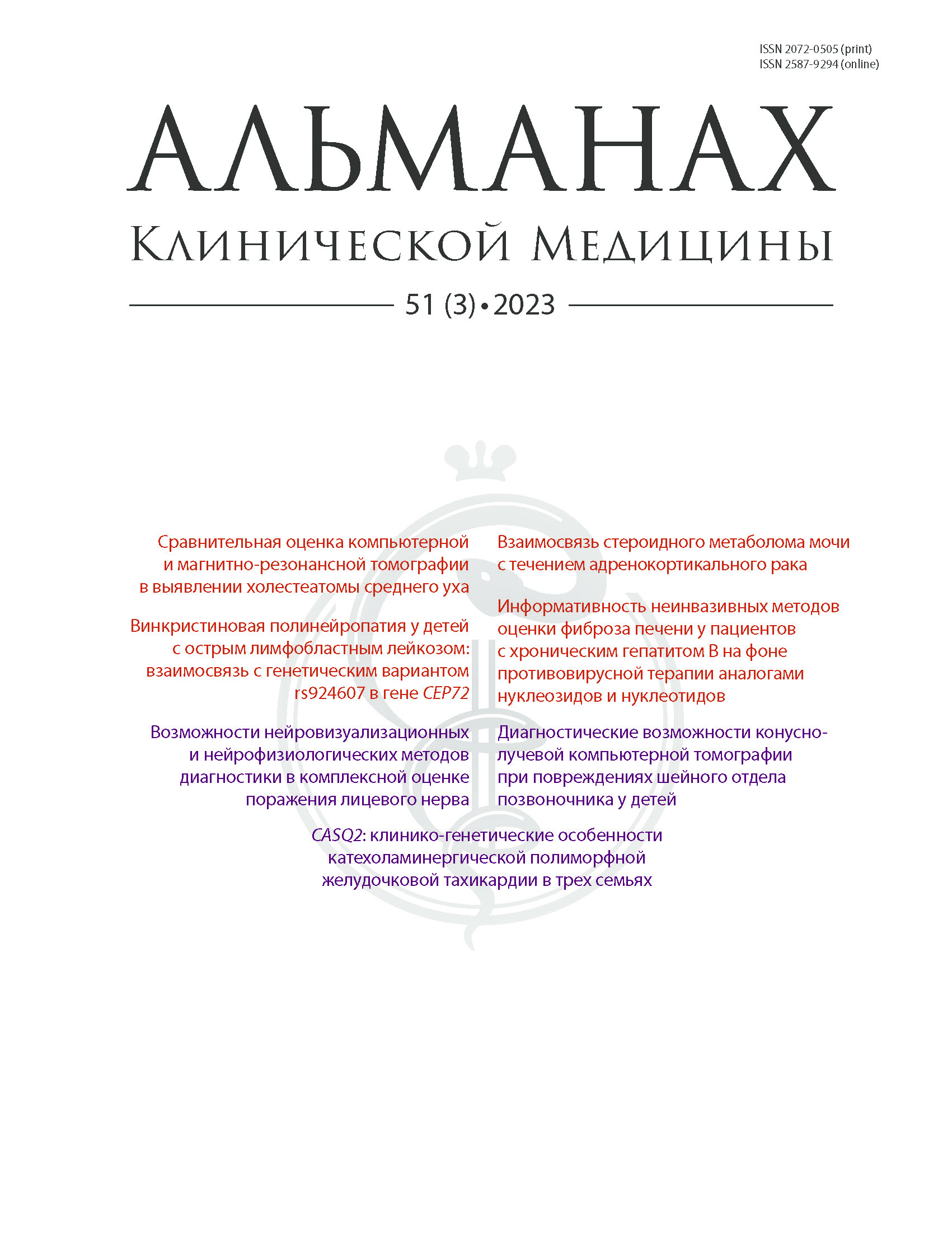 Authors: Talybov R.S.1, Trofimova T.N.2, Mochalov V.V.1, Shvetsov I.V.1, Spasennikov V.V.3
Affiliations:

Regional Clinical Hospital No. 2 (Tyumen)
N.P. Bechtereva Institute of the Human Brain
Tyumen State Medical University

Issue: Vol 51, No 3 (2023)
Section: ARTICLES
ID: 7751
Retraction date: 31.07.2023
Retraction reasons description:

research ethics violation by the authors in terms of submission of misinformation on the ethics approval for the study and on the signing of the informed consent by the patients for participation in the study.
Cite item
Full Text

Abstract
Background: The main purpose of surgery for glioblastoma is to ensure the maximally possible cytoreduction. Computed tomography perfusion imaging has non-invasive tools for assessment of tumor blood flow and allows for visualization of the tumor borders and its most malignant zones.
Aim: To evaluate the efficacy of intraoperative computed tomography perfusion navigation (ICTPN) during surgery for high grade gliomas.
Materials and methods: This prospective non-randomized study included 142 patients (76 men and 66 women) with morphologically verified diagnosis of glioblastoma or diffuse astrocytoma grade 4 (World Health Organization 2021 criteria), who had surgery from 2016 to 2022. The ICTPN-based procedures were performed in 94 patients, with 55 with gross total and 39 with subtotal tumor resection. The control group included 48 patients with non-ICTPN-based surgical procedures. All patients were treated with standard adjuvant chemoradiation therapy. The efficacy of surgery was assessed every 3 months. The study endpoint was any tumor progression. The duration of the follow-up was 15 months. Baseline and contrast-enhanced preoperative imaging and postoperative follow-up assessments were performed with a 3T magnetic resonance imaging scanner (General Electric Discovery W750). ICTPN was done with a 32 slice computed tomography scanner (Toshiba Aquilion LB).
Results: In the totally resected ICTPN group, the mean duration of the relapse-free period was 13.05 months; the relapse-free survival at 6 and 12 months was 92 and 55%, respectively (p < 0.001). These results were significantly better than those in the subtotally resected ICTPN patients (8.98 months, 66 and 9%, respectively; log rank test for Kaplan-Meier curves, p < 0.001) and in non-ICTPN patients (5.81 months, 23 and 0%, respectively, log rank test, p < 0.001).
Conclusion: ICTPN enables a more objective assessment of the tumor borders and the extent of its resection, as well as relapse-free survival benefits for the patients.
About the authors
Regional Clinical Hospital No. 2 (Tyumen)
Email: rustam230789@gmail.com
ORCID iD: 0000-0003-3820-2057

Radiologist, Head of Department of X-ray Diagnostics
Russian Federation, ul. Mel'nikayte 75, Tyumen, 625039
N.P. Bechtereva Institute of the Human Brain
Email: ttrofimova@groupmmc.ru
ORCID iD: 0000-0003-4871-2341

MD, PhD, Professor, Corr. Member of Russ. Acad. Sci., Chief Research Fellow, Laboratory of Neurovisualization
Russian Federation, ul. Akademika Pavlova 9, Saint Petersburg, 197376
Regional Clinical Hospital No. 2 (Tyumen)
Email: luther1992@gmail.com
ORCID iD: 0000-0003-0608-8915

Radiologist
Russian Federation, ul. Mel'nikayte 75, Tyumen, 625039
Regional Clinical Hospital No. 2 (Tyumen)
Email: shved1906@mail.ru
ORCID iD: 0000-0001-9761-1198

MD, PhD, Acting Chief Physician
Russian Federation, ul. Mel'nikayte 75, Tyumen, 625039
Tyumen State Medical University
Author for correspondence.
Email: acrispire@gmail.com
ORCID iD: 0000-0002-1180-4886

6th Year Student, Faculty of General Medicine
Russian Federation, ul. Odesskaya 54, Tyumen, 625023