A rare case of isolated erosive ulcerative lichen planus of the vermilion zone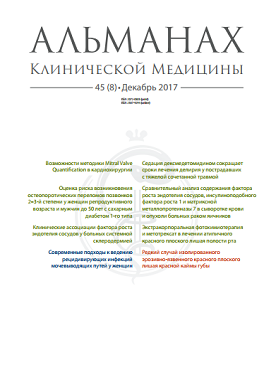 Cite item
Abstract
Unlike oral lichen planus (LP), isolated LP of the vermilion zone is a rare disease. It has a higher risk of malignization compared to other LP types, especially with the long course of the disease, which is to be related to frequent injuries and insolation of the area. In its turn, erosive/ulcerative form of LP under adverse circumstances (smoking, external irritants, immunosuppression, etc.) may antedate leukoplakia or transform into cancer; this clinical type of oral LP is difficult to differentiate from invasive squamous cancer. We describe a  clinical case of isolated erosive LP of the vermilion of the lower lip, long lasting and resistant to therapy. Due to persisting erosion on the lip, we performed an assessment by immunohistochemistry and histology to exclude squamous cell carcinoma. After the malignancy had been excluded and the diagnosis has been made, the patient was administered the treatment with aromatic retinoid acitretin, which was effective and led to complete epithelialization of the lesion. In patients with a long lasting, persistent LP of the vermilion, diagnostic biopsy should be performed to exclude malignization before administration of treatment.
About the authors
Moscow Regional Research and Clinical Institute (MONIKI)
Author for correspondence.
Email: yulia.molochkova@yandex.ru
MD, PhD, Senior Research Fellow, Dermatovenereology and Dermatooncology Department Russian Federation
Moscow Regional Research and Clinical Institute (MONIKI)
Email: fake@neicon.ru
MD, PhD, Professor of the Course of Surgical Stomatology and Implantology, Chair of Jaw and Face Surgery and Surgical Stomatology, Postgraduate Training Faculty Russian Federation
Moscow State University of Medicine and Dentistry named after A.I. Evdokimov
Email: fake@neicon.ru
MD, PhD, Professor, Head of the Chair of Skin and Venereal Diseases Russian Federation
Moscow Regional Research and Clinical Institute (MONIKI)
Email: fake@neicon.ru
MD, Research Fellow, Department of Pathological Anatomy Russian Federation
References
Halonen P, Jakobsson M, Heikinheimo O, Riska A, Gissler M, Pukkala E. Cancer risk of Lichen planus: a cohort study of 13,100 women in Finland. Int J Cancer. 2017 [Epub 2017 Sep 8]. doi: 10.1002/ijc.31025.
Nuzzolo P, Celentano A, Bucci P, Adamo D, Ruoppo E, Leuci S, Mignogna MD. Lichen planus of the lips: an intermediate disease between the skin and mucosa? Retrospective clinical study and review of the literature. Int J Dermatol. 2016;55(9):e473–81. doi: 10.1111/ ijd.13265.
Samal DK, Behera G, Gupta V, Majumdar K, Khurana U. Isolated lichen planus of lower lip: a case report. Indian J Otolaryngol Head Neck Surg. 2015;67 Suppl 1:151–3. doi: 10.1007/ s12070-014-0768-5.
Aminzadeh A, Jahanshahi G, Ahmadi M. A retrospective comparative study on clinico-pathologic features of oral lichen planus and oral lichenoid lesions. Dent Res J (Isfahan). 2013;10(2):168–72.
Петрова ЛВ. Особенности клинического течения красного плоского лишая слизистой оболочки полости рта. Российский журнал кожных и венерических болезней. 2002;(3):28–31.
Varghese SS, George GB, Sarojini SB, Vinod S, Mathew P, Mathew DG, Sebastian J, George A. Epidemiology of oral lichen planus in a cohort of south indian population: a retrospective study. J Cancer Prev. 2016;21(1):55–9. doi: 10.15430/JCP.2016.21.1.55.
Krupaa RJ, Sankari SL, Masthan KM, Rajesh E. Oral lichen planus: an overview. J Pharm Bioallied Sci. 2015;7 Suppl 1:S158–61. doi: 10.4103/0975-7406.155873.
Gorouhi F, Davari P, Fazel N. Cutaneous and mucosal lichen planus: a comprehensive review of clinical subtypes, risk factors, diagnosis, and prognosis. ScientificWorldJournal. 2014;2014:742826. doi: 10.1155/2014/742826.
Garcia-Pola MJ, Llorente-Pendás S, González-Garcia M, García-Martín JM. The development of proliferative verrucous leukoplakia in oral lichen planus. A preliminary study. Med Oral Patol Oral Cir Bucal. 2016;21(3):e328–34. doi: 10.4317/medoral.20832.
Greenberg MS. AAOM Clinical Practice Statement: Subject: Oral lichen planus and oral cancer. Oral Surg Oral Med Oral Pathol Oral Radiol. 2016;122(4):440–1. doi: 10.1016/j. oooo.2016.05.015.
Silverman S Jr, Gorsky M, Lozada-Nur F. A prospective follow-up study of 570 patients with oral lichen planus: persistence, remission, and malignant association. Oral Surg Oral Med Oral Pathol. 1985;60(1):30–4.
Aghbari SMH, Abushouk AI, Attia A, Elmaraezy A, Menshawy A, Ahmed MS, Elsaadany BA, Ahmed EM. Malignant transformation of oral lichen planus and oral lichenoid lesions: A meta-analysis of 20095 patient data. Oral Oncol. 2017;68:92–102. doi: 10.1016/j.oraloncology.2017.03.012.
Katta R. Lichen planus. Am Fam Physician. 2000;61(11):3319–24, 3327–8.
Supplementary files
There are no supplementary files to display.